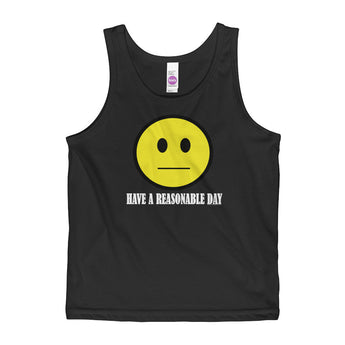 Have A Reasonable Day Kids' Tank Top - Made in USA
Regular price $24.00 Sale
This is a comfortable and ultra-soft tank top that will be loved by all kids.
• Poly cotton (50% polyester / 50% combed cotton) construction
• Not intended for sleepwear
• Unisex
• Made in America, sweatshop free
Having a good day is a lot of pressure. Try better living through managing expectations. No need to raise people's hopes when you can build confidence through moderating expectations. We know it's not always easy to have a good day, let alone a great day. Some days suck. Some deal with pain on a daily basis - physical and emotional. Sometimes it's all you can do to must make it through the day. If that's your life, the first thing you think when someone wishes you a great day is probably F**K you - or something to that effect. Of course everyone means well. We were raised to be polite & use manners. We do wish people the best day. It's a random, if not socially obligatory, act of kindness. Next time, wish them a reasonable day, it always gets a chuckle and you can leave the high pressure behind. Reasonable gift for Empaths, Professors of Locke & Logic, or anyone affected by fibromyalgia, depression, apathy, autism, bipolar disorder, or any other invisible illness, mental or physical health issues. Oh, and also, anyone tired of being told to smile more - it increases your face value? Just tell them it takes more muscles to frown, frowning is my workout.