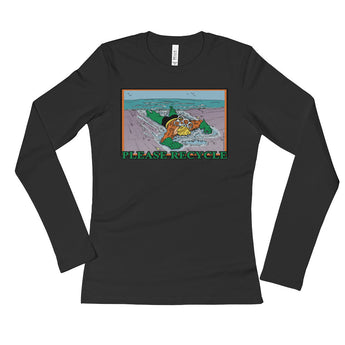 Please Recycle Fitted Long Sleeve T-Shirt
Regular price $28.50 Sale
This soft cotton t-shirt will keep you warm and comfortable. Perfect for work, weekends, or a chilly summer evening.
• 100% combed ring-spun cotton (athletic heather has 10% polyester)
• 30 singles thread weight
• Side seamed for a fashionable, contoured fit
• Five-eighths inch cover-stitched neck and armholes
That's not a beached whale. That's Arthur Curry, trident lost at sea. If only we had done more to save the environment! What a tragedy, the King of Atlantis. His loyal undersea creatures will be searching the oceans, exploring every trench and coral reef. Please Recycle and for the love of Aquaman, cut up those plastic rings on six packs of soda - the life you save might be your own - Queen Mera and the other Atlantians is going to be pissed. Bring on the new Golden Age of Recycling before this all gets out of hand. Save Aquaman.
On the other hand, we know; a few people who's mantra is "I hate Aquaman" or "I wish Aquaman would die" Apparently some people just won't be happy until they see the Death of Aquaman. How many turtles and cute marine dolphins have to die? Stop the Plastic slaughter!