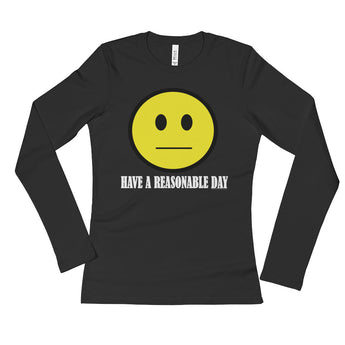 Have A Reasonable Day Fitted Long Sleeve T-Shirt
Regular price $30.00 Sale
Having a good day is a lot of pressure. Try better living through managing expectations.
• 100% combed ring-spun cotton (athletic heather has 10% polyester)
• 30 singles thread weight
• Side seamed for a fashionable, contoured fit
• Five-eighths inch cover-stitched neck and armholes
No need to raise people's hopes when you can build confidence through moderating expectations. We know it's not always easy to have a good day, let alone a great day. Some days suck. Some deal with pain on a daily basis - physical and emotional. Sometimes it's all you can do to must make it through the day. If that's your life, the first thing you think when someone wishes you a great day is probably F**K you - or something to that effect. Of course everyone means well. We were raised to be polite & use manners. We do wish people the best day. It's a random, if not socially obligatory, act of kindness. Next time, wish them a reasonable day, it always gets a chuckle and you can leave the high pressure behind. Reasonable gift for Empaths, Professors of Locke & Logic, or anyone affected by fibromyalgia, depression, apathy, autism, bipolar disorder, or any other invisible illness, mental or physical health issues. Oh, and also, anyone tired of being told to smile more - it increases your face value? Just tell them it takes more muscles to frown, frowning is my workout. This soft cotton t-shirt will keep you warm and comfortable. Perfect for work, weekends, or a chilly summer evening.